Big news for the South Carolina health insurance marketplace in 2015! SChealthconnector.org has recently learned that Time Insurance (also known as Assurant Health) has filed plans and rates in South Carolina for the 2015 plan year. Although we must note that nothing is yet confirmed, this is a very positive development for South Carolina residents looking for quality, affordable health insurance on the South Carolina Health Insurance Exchange.
Earlier in the month, we noticed this filing (see picture below) at the South Carolina Department of Insurance, dated June 4, 2014. As you can see, the filing indicates that Time Insurance filed a PPO plan for both ON and OFF exchange.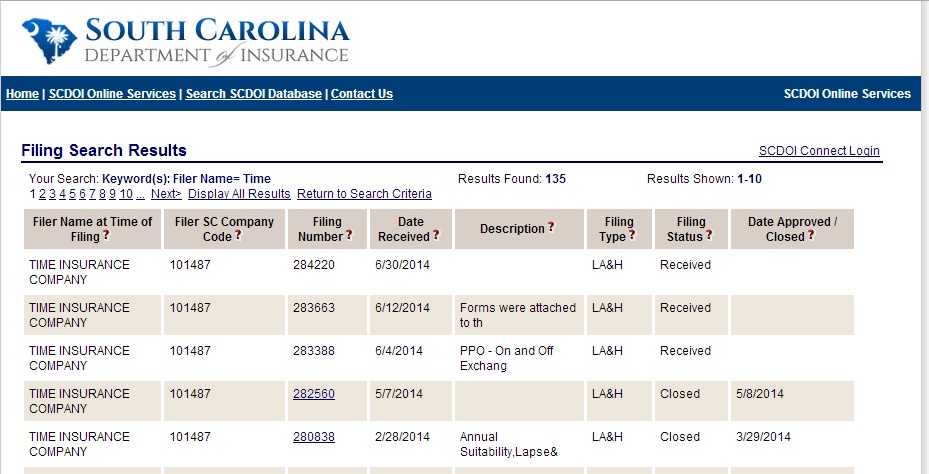 Earlier this week, we were also able to confirm this filing via an unnamed source at Assurant Health. Our source indicates that Time/Assurant has filed an ON exchange plan in all counties of South Carolina. We must caution, however, that details are subject to change,  and insurers can suddenly decide to not participate in a market, as we saw with Coventry exiting Georgia and Maryland prior to the 2014 open enrollment.
Currently, South Carolina has 4 insurers participating in the Federally Facilitated health insurance marketplace for the 2014 plan year:  Bluecross of SC, Bluechoice of SC, Consumers Choice Health Plan, and Coventry. Assuming the current players participate in 2015, the addition of Time/Assurant would bring our total to 5 insurers available for South Carolina residents purchasing a plan with a subsidy or tax credit.
Currently, Assurant health offers plans OFF the health insurance marketplace, including the ONLY platinum plan in South Carolina for 2014. For plan year 2014, Time Assurant currently offers customers a choice of networks – either CIGNA or Aetna's networks. Currently, Assurant's network options are some of the most robust options available to South Carolina residents looking to purchase an individual health plan. Unfortunately, however, South Carolina residents cannot currently buy a 2014 plan from Time/Assurant with a tax credit, as these plans are not available on the health insurance marketplace at www.healthcare.gov. Based on today's news, however, this may change for 2015!
As a licensed and appointed agent with Time Insurance/Assurant Health, we look forward to helping our clients evaluate this additional option for 2015! Feel free to contact us today for more information!