BIG NEWS for residents of Florence County South Carolina for 2020! Beginning November 1, 2019 Ambetter Health Insurance Florence County will be available for marketplace enrollment! Whether you live in Florence, Lake City, Johnsonville, Timmonsville, Effingham, or Pamplico you will have a NEW option for individual health insurance on the marketplace for 2020 – Ambetter Health Insurance!
NEED HELP shopping for 2020? Click here to see all available plans (2020 rates now available!) or call 843-882-7062 and ask for an appointment with the "SC Health Connector" – we are a local, independent agency that works for YOU!
WHO IS AMBETTER HEALTH INSURANCE?
Ambetter from Absolute Total Care is Centene Corporation's Health Insurance Marketplace product for South Carolina. Centene Corporation is a multinational Fortune 500 company with over 30 years of experience in the Managed Care industry and a robust portfolio of specialty health solutions. Centene currently operates in 32 states and 3 international markets. Centene currently has 52,000 employees and 15+ million managed care members.
WHY AMBETTER HEALTH INSURANCE 2020?
As we recently reported, sample rates released by the South Carolina Department of Insurance look very favorable! (UPDATE: 2020 rates now avaiable) Sample rates suggest that Ambetter Health Insurance Florence County 2020 marketplace rates may be very competitive in 2020! In fact, for some Silver plans, Ambetter Health Insurance 2020 rates are up to 50% lower than current marketplace plan rates. But the rates don't tell the whole story! In fact, decreasing silver plan premiums may affect your current tax credit eligibility on the marketplace! If you need marketplace health insurance for 2020, Ambetter may provide a lower cost option than your current coverage. However, it is always important to pay attention to plan details, such as network providers and prescription coverage, before enrolling. CLICK HERE to view Ambetter Health Insurance 2020 rates (rates available now!). Regardless, it is very important that you review all marketplace options for open enrollment 2020. We can help!
Based on network listings, it appears that Ambetter expects to have MUSC Florence Medical Center (in addition to the entire MUSC system), Lake City Community Hospital, and Tidelands Georgetown Memorial Hospital in network for 2020. As always, whenever possible, please check with your insurer as to the network status of any provider before seeking medical treatment.
AMBETTER HEALTH INSURANCE FLORENCE COUNTY 2020 PLANS – EARLY LOOK
For 2020, Ambetter will offer 3 Ambetter Bronze plans, 9 Ambetter Silver plans, and Ambetter 2 Gold plans in Florence County.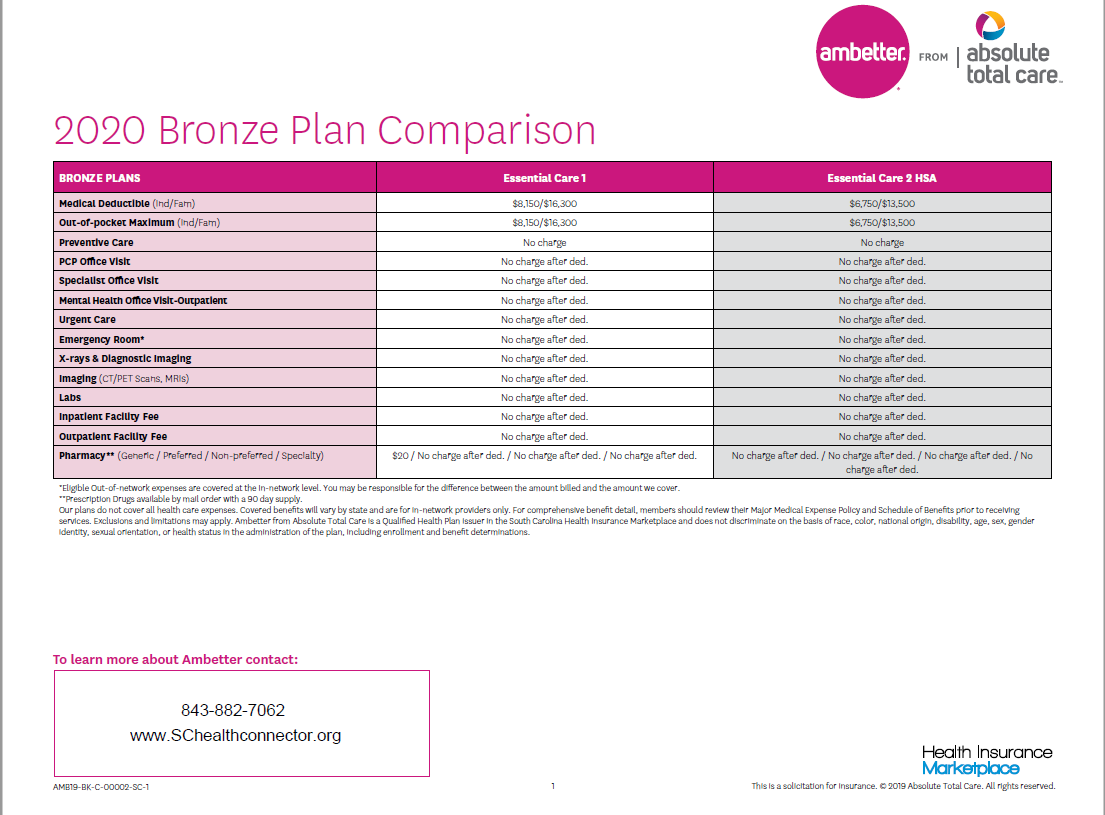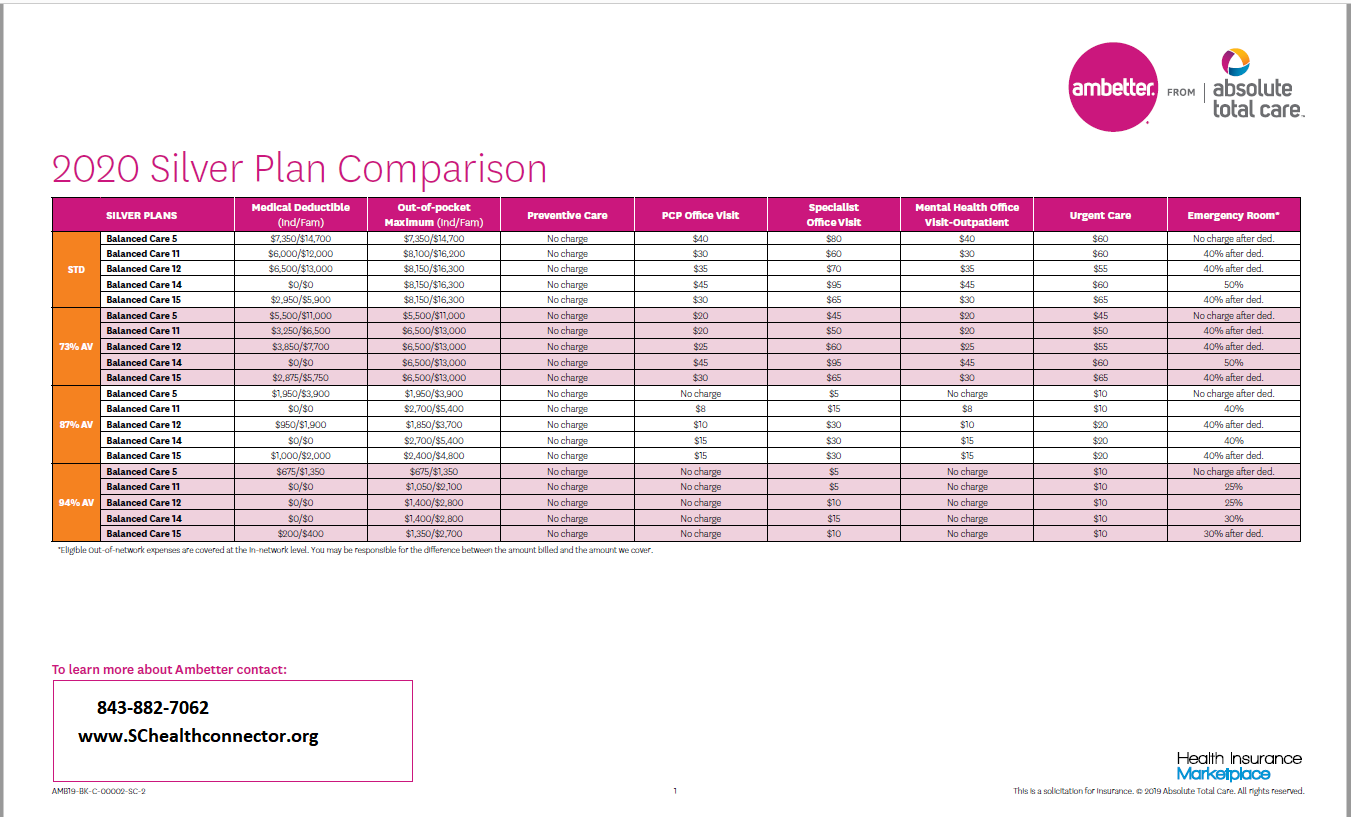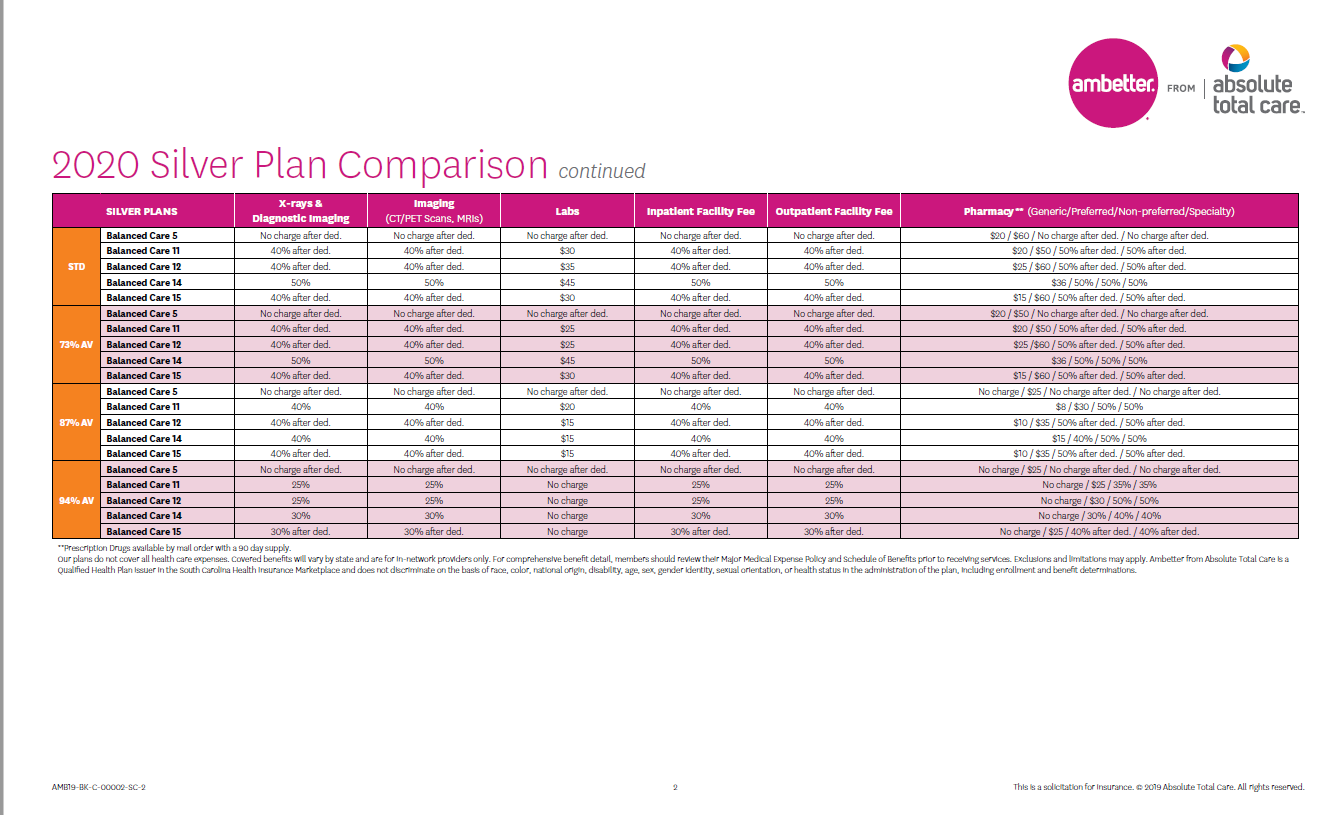 Plan summary:
All 2020 Ambetter Plans are HMO plans. An HMO is a type of health insurance plan that usually limits coverage to care from doctors who work for or contract with the HMO. It generally won't cover out-of-network care except in an emergency. An HMO may require you to live or work in its service area to be eligible for coverage. HMOs often provide integrated care and focus on prevention and wellness.
Ambetter Bronze Plans available in Florence for 2020 will include 3 offerings (click plan name to view Summary of benefits):
Ambetter Silver Plans in Florence for 2020 will include 9 offerings :
Ambetter Gold Plans in Florence for 2020 will include 2 offerings :